When it comes to teaching dog training hand signals, you may be wondering why you need to do so. In addition to verbal orders, training your dog to respond to hand gestures is a good idea. And it may have a profound impact on your dog's quality of life.
Dogs aren't very good at understanding the language humans use. Verbal signals, on the other hand, are learned via the understanding of sounds.
Hand signals in dog training may help you communicate with your dog in a variety of ways, including:
• Using hand signals to communicate with your dog might help him become more attentive to you.
• To train your dog, you will need to communicate with it such as hand commands for dogs.
• It's particularly useful in loud places when your dog may not be able to hear a spoken command, such as in a restaurant.
• Dogs may get deaf for several reasons. To converse with them, dog command hand signals are required. The fact that your dog is familiar with hand signals will be a major help.
If you use hand signals to communicate with your dog, you won't have to yell to get their attention.
• Hand signals may also help your dog enhance his mental abilities. The more dogs can learn, the better and in this way, your dog won't be bored either!
• All good training enhances your relationship with your dog.
• You will also need to teach some dog hand signals commands if you plan on entering advanced obedience contests.
• The dog hand signal for "sit" will make your dog behave and be more disciplined.
• Dogs are able to understand human body language because it is normal for them to do so. They'll pick them up gradually if you're consistent with your visual clues.
• You can easily make your dog behave by using dog hand signal "sit".
Body Language vs. Hand Gestures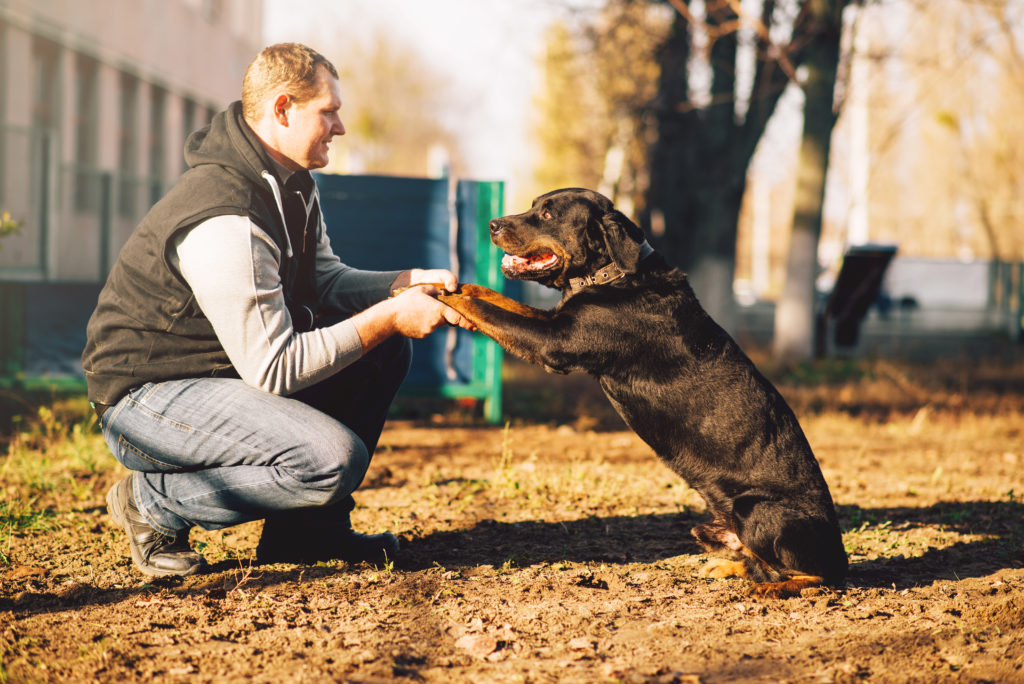 It's vital to understand that dogs are more reliant on visual signals than humans would believe. Considering that humans are a sight-dependent species, it's remarkable that we speak to our dogs so frequently.
As a result, many owners don't teach their dogs simple commands like sit or down, and instead rely only on verbal commands. In contrast to humans, dogs have a better sense of what we are really doing rather than what we are saying.
You can easily teach hand gestures using lure-and-reward training. To get your dog to sit, bring a treat up to his nose and hoist it above his head while elevating your hand from your side to be parallel with the floor.
A verbal cue may be used in conjunction with a hand signal if the verbal cue is taught first, although it is preferable to use a physical signal first to avoid confusion. Your dog will soon understand that the hand gesture is the same as the word.
A dog's capacity to learn is said to be impacted not just by hand signals but also the trainer's body language and how far apart they are from one another. When the trainer is too far away from the dog, the dog appears less receptive.
This means that you should keep an eye on the ground when conversing with your dog. It's also vital to consider where you're standing. As an example, if you hunch over your dog, he may feel threatened.
As even if you're saying something nice, your intimidating body language may be more powerful than your words.
In order to give your dog the best possible chance of success, try mixing cues with your dog. Using a verbal cue and a hand gesture, as well as smelly goodies, get your dog's sense of smell involved as well.
Your dog's three senses will be engaged, and you will have done all you can to guarantee that he is focused on you.
Consider what your dog is looking at rather than attempting to confuse him with what he is hearing the next time you're wondering why your dog isn't performing what you've asked him to.
The video below shows you how to train your dog to understand hand signals and words.
How to Teach Hand Signs to Your Dog
As with any other command, teaching your dog to react to hand signals is actually simple.
You must demonstrate both the order and the desired action in response to it. You need to praise them when they do what you want them to do. You gradually phase out the use of prizes as they learn the command.
However, there are a few additional considerations to keep in mind while training your dog to communicate by your hand signals.
• Before you begin any training session, you will need your dog's attention since they will need to be able to see your hands.
Begin the training in a distraction-free setting where nothing is likely to divert your dog's attention. Moving training into more realistic and interesting scenarios may be done if the signals are well-known to your dog.
• You may wish to use a clicker or any other sound-generating gadget to capture your dog's attention and keep it focused on you throughout training. You may also refer to them by their first name.
• The vocal command may be used to demonstrate the hand signal's meaning if your dog already understands the comparable verbal orders.
For the first few times, it is vital to refrain from uttering the voice command along with the hand command so that your dog understands that the hand signals indicate this, regardless of the vocal command.
For many dog owners, this may be a difficult habit to break.
• You should not simultaneously teach your dog to recognize both voice orders and hand gestures. As a result, people may conclude that the activity they need to do is a mix of the two, making any of them much less effective.
Getting your dog behavior training down pat will involve a lot of research on classic, tried and tested ways to get him to display the behaviors that you want.
Included here are the right hand signals to master – which will lend a tremendous help in improving the way you communicate with your dog.
This works not just during your training sessions but also outside of it.
The idea of connecting hand signals with a specific command will help your dog better understand what it is that you want out of him, thanks to the combined advantage of visual and auditory cues.
Furthermore, such hand signals will make training time better for the both of you. You will find yourself having an easier time controlling your pooch when you have familiarized him with it, too.
Thus, training will develop at a much faster pace and results will be so much better when these hand signals are also used in everyday situations.
Here are some must-learn and must-master dog hand signals that you need to teach your dog during training.
Hand Signal 1: The Open Hand Down
This hand signal is commonly coupled with your regular sit command. When you say 'sit', you have to move your hand palm down towards the floor at the same time.
This is a very natural movement that your dog will easily and quickly pick up on. It is very simple to do and most dogs are able to connect the visual cue with the auditory one.
Hand Signal 2: The Finger Point
This hand signal is the basic pointing with your index finger. It is a hand signal that you use with common commands such as 'kennel' or even 'mat'.
You may also connect this with actions or commands associated with agility training as it will work well with those, too.
Point to the spot where you want him to see what you desire. First, you'll need to be right near to the item in order to use this feature.
The closer you get to him, the easier it will be for him to grasp what you're trying to communicate.
Hand Signal 3: The Thumbs Up
You want to congratulate your dog whenever he does anything well.
This is the universal hand signal for communicating a job well done. It works between people, and it will work with dogs as well!
You can use this when your dog does a trick, follows a command, or displays good behavior. In no time, he will recognize this as a positive reinforcement.
It is even better when you use this hand signal when you give him treat rewards or a clicker, to really emphasize the job well done.
We begin by rewarding our dogs with food and praising them verbally. However, you'll gradually reduce the number of goodies your dog receives once he consistently executes a behavior on command.
Nonetheless, what if you're unable to praise your dog verbally due to the environment (it's too loud) or if your dog has hearing loss?
You may teach him a visual cue to indicate that he's been a particularly excellent boy.
It is important to use a thumbs-up gesture to educate your child what it signifies.
Hand Signal 4: The Finger Pointed Down
The finger pointing down is another common signal used in training dogs. It is a visual cue to the command known as 'lie down'. You can also use this as a pick up signal for your dog as it will easily work with that, too.
Hand Signal 5: The Palm Out Hand
When you put your hand out with the palm facing forward, you are giving your dog a very effective and very clear command such as 'off', or 'stop', or even 'freeze'.
However, with this hand signal you must take care to use only one command for it. If you use it across several types, it is likely that your dog will end up getting confused on what it is that you really want him to do.
Your dog's life may be saved by teaching him to remain in his current position.
You may be certain that he will not dash out the door or into the street if he pays attention. It's a lifesaver in a pinch.
Your palm should be facing away from you when you raise your hand over your head. Then, raise the signal to a level that is at or just over the level of your midriff.
Choose carefully which command you would like your dog to associate the palm out hand signal with, and be consistent with it until he makes the connection.
Hand Signal 6: The Time Out
This hand signal is traditionally used in sporting events to signal a break time for a team. It is also an excellent visual cue to use with your dogs.
The best commands to make the connection with the time out hand signal would be commands such as 'leave it', 'quiet', or 'drop'.
It is also a command that is often used for deaf dogs or dogs that are hard of hearing, but feel free to use it on your hearing dog because it is a very nice visual cue that will go well with the aforementioned commands.
This is another life-saving command for your dog. If your dog snatches something that he shouldn't have, what will happen to your dog? You need to get it away from your dog as soon as possible.
If you chase your dog, your dog will make it fun for you. In addition, he has four legs compared to our two.
So show your dog how to put it down. Using the command while playing fetch with your dog is also useful. In order to teach it, present your closed hand in front of him if your dog has anything in his mouth.
Open your fist after that. Praise and reward him if your dog drops his toy. For the first few times, you may use a treat in your closed fist instead of the toy as a reward.
One bonus that you will get out of it is that it is very easy for your dog to distinguish the time out hand signal with other hand signals. Because it really stands out, so it is possible that he will take less time to obey it.
Hand Signal 7: The Hand Out
When people bring out their hands in the hand out manner, others take it to mean that they would like to shake hands and will thus respond appropriately. The same can be said for dogs who have identified this hand signal.
The hand out signal is commonly associated with the 'shake' command. You can also choose to use it for other commands like 'come', for example.
Hand Signal 8: The Two Fingers Pointed at Your Eyes
You might have seen this hand signal in movies or television shows to indicate that someone is vigilantly watching another person. And in the world of dog training something similar can be said!
The two fingers pointed at your eyes is a great hand signal to use with your dog so he will train his attention to you.
This is a great signal for when you want to communicate to your dog that you would like for him to watch you.
Hand Signal 9: Come
You should teach your dog this command as soon as possible. In addition to saving his life, this directive may also save him from becoming lost.
You should use a gesture that the dog can see from a distance if that is what is needed to educate it.
Make a massive horizontal sweeping wave next to your body (palm out) with your arm swinging in an exaggerated horizontal wave motion while your dog is a few feet distant.
The palm of your hand should then rest on your chest, softly.
Hand Signal 10: Heel
The term "heeling" refers to a dog walking close to your left leg with its shoulder region towards your thigh. When competing in dog shows, this is mandatory.
However, if you like, you may train your dog to walk on your right side. Consistency is key.
A circular motion or tapping your hips in that spot might assist bring your dog there.
With a reward in your hand, you may entice him into a posture where he'll be more comfortable. When he comes over to stand next to you, reward the behavior by marking it and giving him a treat.
Hand Signal 11: Quiet Hand Signal
Our pets may be a nuisance at times. Some of the breeds are famously loud, which may annoy others or even yourself.
You need to teach your dogs a quiet command so that you and your neighbors may enjoy some peace and quiet at home and outdoors.
By praising and rewarding the moment they stop barking, they will understand what the term "silent" means.
If you are teaching a quiet hand signal, you should position your index finger perpendicular to your lips.
If you will notice, these eleven hand signals are very easy to perform and are quite simple. They are designed to be just that for two reasons:
1) so it will be easier for you to recall them and use them during training, and 2) so your dog will easily recognize them and follow the said command and signal.
Try to memorize the hand signals with the desired command prior to training to avoid making mistakes when executing them.
When you have not memorized the signals, your dog might get confused because you are not displaying consistency in training. When you have the hang of it, keep at it until your dog is showing signs of faster recognition and obeying.
Get other members of the household onboard as well so everyone will know the correct hand signals to use and thus make training a lot easier for your dog!
Final Thoughts
Your dog's obedience may be greatly improved by teaching it to respond to hand signals. Your dog won't be bored and your relationship will become stronger as a result.
Hand signals may be a very valuable tool in training your dog.
Dog training hand signals may be used to speak with your dog even if they begin to lose their hearing as they become older.
It may be simpler than you think to teach your dog to recognize hand signals since canines are better at interpreting body language than they are at understanding spoken cues.
In fact, using hand signals to communicate with your dog is a great method to guarantee that your pet is well-trained, well-behaved, and easy to handle.
With hand signals, you may order your dog even if he or she is a long distance away, and you don't have to yell to get your point through.
If you like this article on hand signals and want your dog to be obedient and listen to your commands, the Online Dog Trainer is a great place to start!
People are getting amazing results with their dogs as quick as 3 days and absolutely love the program!
But even better than the results is the feedback from people about how the program has changed the quality of their lives. They no longer feel stressed, frustrated and embarrassed when it comes to their dogs.

If you stay on after the 3 day trial, you will get access to the members only forum, where you get to actually connect with Doggy Dan in person.
You can ask him and his team questions, show him videos of your dog's problem. They'll analyse your situation, prescribe a solution, and help you implement it.
Or just socialize with other like-minded dog lovers from all over the world where they are sharing valuable ideas, tips and tricks on all dog issues!
If you are ready to make some changes in your life, this is the ONLY place you should start.
Doggy Dan, the owner of the program will teach you exactly how to make the necessary changes in your dog training methods so that you can see the changes in your dog's behavior in the shortest time possible.
It only cost $1 to get access to the program for 3 days. During the trial you can cancel at any time and you wont pay another cent. You have nothing to lose and much to gain.
Click here to get started today!
If you are still on the fences whether to join the program, you can get the FREE Video Series and see if the content benefits you before making a decision.
Leave a comment below if you enjoyed this article or have any questions!